Welcome to your NEW Website Dashboard.
Make your own updates and win online - our 20+ Apps are game-changing.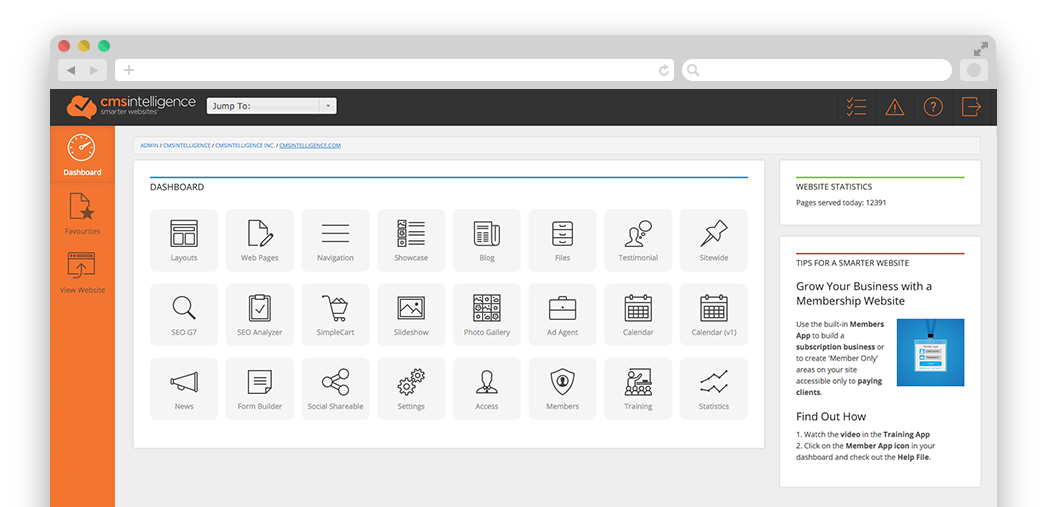 ---
Everything you need to keep your website running smoothly...
Our cloud-based software gives you all the tools you need to blog, sell online, create private member areas and add any content you want. Plus, we take care of all security issues and updates for you... in the cloud.
Cloud Hosting
Every Tymbrel Website is hosted with Amazon Web Services (AWS) cloud-computing service.
Automatic Security Updates
Never worry about performing security updates. The Tymbrel Platform updates in the cloud to keep your website protected.
Platform Maintenance
Updates and maintenance are performed regularly to eliminate bugs and to keep your website loading fast and running smoothly.
Evolving Technology
Continuous improvement. Better performance. Up-to-date code. Your website will always be powered by the latest technology.
Unlimited Technical Support
Questions about using the platform software? Reach out to our tech support team. It's free and unlimited for CMSIntelligence customers.
Training and Webinars
Learn how to use the Tymbrel Platform, improve SEO results, and make your website work for you with our Training Videos and Webinars.
Layout Manager

The layout manager provides access to customize presentation and design.

Web Pages

Add, edit and update unlimited web pages with built-in SEO tools.

Navigation

Customize your website's navigation with fast, drag-and-drop controls.

Showcase

Showcase your products, services or portfolios elegantly and professionally.

Blog

Start a company blog with built-in SEO, social share buttons and optional visitor commenting.

Files

Easily manage image & PDF files with drag-and-drop upload and image resizing and renaming tools.

Testimonial

Post client testimonials with this simple App, and share them anywhere on your website.

Sitewide

Easily post key marketing content to display consistently on pages throughout your website.

SEO Tools

Get found on Google, Yahoo and Bing. Set your target keywords and analyze the competition.

Form Builder

Build custom forms, surveys and more with a built-in, drag & drop form builder.

SimpleCart

Sell products (including digital) or services online, with payment by credit card or PayPal.

Slideshow

Wow your visitors with one or more customized, rotating image slideshows.

Photo Gallery

Create beautiful, custom photo galleries easily with the drag-and-drop uploader.

Ad Agent

Post ads or create promotions with built-in click tracking and the impression counter.

Calendar

Create calendars to promote different events or important dates throughout the year.

News

Share your latest press releases or news clips succinctly and professionally.

Settings

Customize your Google settings, email type, contact form auto-messaging and more, in seconds.

Access

Provide access to others with this user-permissions App. Easily define which users can access specific Apps.

Members

Create members-only areas, sell subscriptions, and provide visitors with unique login credentials.

Training

Access step-by-step training videos on how to make the most of the Apps found on your Dashboard.