During the 2nd Annual DesignSmart Challenge, Niagara College students were given the opportunity to demonstrate their web design skills using the CMSIntelligence Platform.
---
'Applied Dreams' encapsulates the principles and ideals that guide how Niagara College prepares students for life. The college's emphasis on not just teaching students, but on also giving them abundant opportunities to apply their knowledge in practical, functional ways, is what sets this school apart.
A big part of this is establishing productive and mutually rewarding partnerships with local businesses, to give students a taste of what they can expect after graduation.
And, it's what inspired the CMSIntelligence DesignSmart Challenge.
The DesignSmart challenge is first and foremost about offering Niagara College students in the School of Media Studies a chance to apply the knowledge and skills they're acquiring in school, in a 'real-life' setting.
The teams were presented with a project brief, much like what they're likely to encounter after they graduate.
During the 4 short hours the teams had to complete their websites, they had to design, code, and plug a website into the CMSIntelligence Platform.
Each of our teams worked hard, and each demonstrated an impressive breadth of understanding and skill, as well as a sophisticated design sensibility, that in combination will serve them well in their future careers.
All participants received a DesignSmart T-Shirt, $10 Tim Hortons git card, and 1 year FREE subscription to the CMSIntelligence Platform to build and host their own website.
---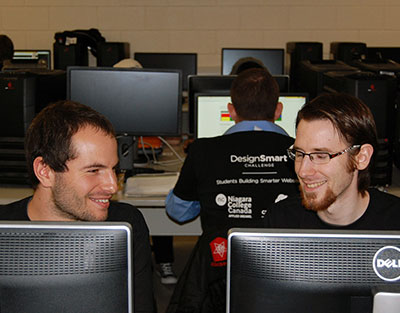 The Winners
Congratulations to our winners, Corey Foster and Michael Conte!
The DesignSmart Challenge teams were marked based on a variety of important elements, including design, assembly, functionality and integration.
In the end, Corey and Michael won the $250 grand prize. These two talented 2nd year New Media Web Design students really wowed the CMSIntelligence team with the functionality and user-friendly nature of the website they created.
A big thanks, and congratulations on a job well done to all our teams. See you again next year!
---
2015 DesignSmart Photo Gallery