Plus, our NEW Platform Update section keeps you in the know!!!
Hi, Everyone  – This is a quick touch base to let you know about some of the awesome new features we've added to our website management platform.
---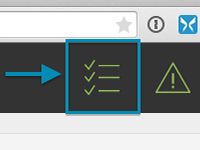 NEW!! Platform Updates List
Look for a new icon in the bar at the top of your dashboard – click on the icon to view a list of all RECENT PLATFORM UPDATES, with new items every week.

Blog Preview Button
Many of you asked to be able to preview your blog posts before they making them live on your website. Well, now you can do just that. Check out the Updates List or Blog App Help File to see how it works.
New Training Videos
Photo Gallery App
A couple of months ago, we launched a NEW Photo Gallery App. A new video has been posted to Training App.
Slideshow App
We also launched a NEW Slideshow App recently. The overview video has been uploaded to the Training App.
---
Stay tuned for much more!
Keep an eye out for more upcoming announcements - we have more NEW APPS coming in the next few weeks, including a FORM BUILDER which will allow you to build custom forms on your own.
---
Not currently on our mailing list?
Use the link below to signup + receive a FREE resource.