Wow! What a great day we had at Niagara College for the DesignSmart 2014 Challenge – Students Building Smarter Websites.
Many thanks to the participating students from the New Media Web Design and Computer Programmer streams at Niagara College – who came to school on a Saturday at the busy end of term to learn, grow and compete!
Thanks, also to the Niagara College professors on the judging team – Jessica St. Peter co-owner of Brand Web Design in Welland (and Niagara College Grad), and Joe Lapinski, musician, web guru and man-about-Niagara. We also thank Roberto Acosta and Linda Roote for organizing this event for Niagara College.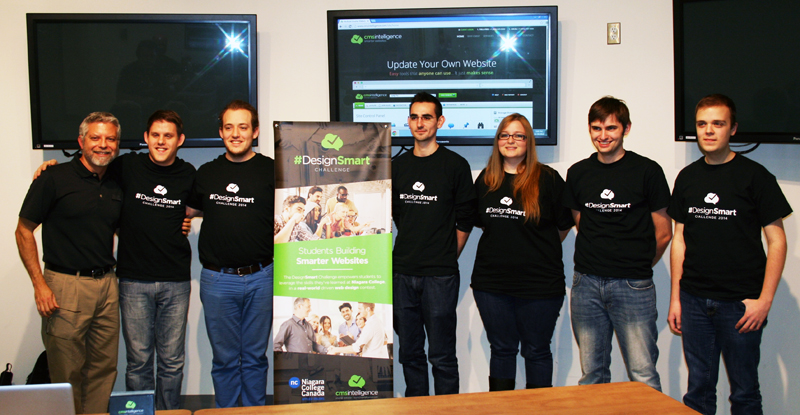 Shown above (L-R): Roberto Acosta (Niagara College), Attila Hajzer, Ryan Morris,Harrison Barnes, Stephanie Scott, Dacotah Harvey and Timothy Blokzyl.
The teams arrived at 9am for the challenge briefing. They were presented with a Client Brief, a QuickStart Guide to using the CMSIntelligence Content Management System and a folder of website resource files.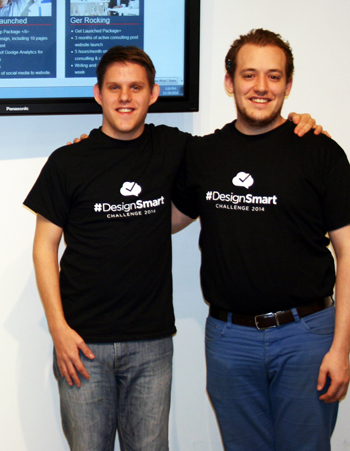 Then, they had 4 hours to design, code and present a website.
Judging focused around 4 key areas of competency:
Design – layout, colour, navigation, branding
Assembly – CMS platform proficiency, HTML/CSS construction & validation
Functionality – SEO + accessibility, responsiveness, use of built-in platform tools, custom programmatic add-ons (ie. JavaScript, Jquery, etc.)
Integration – completion, compliance with client briefing, user experience, team professionalism
It was a tight competition – tough to judge – ultimately won by Team 2: Attila Hajzer and Ryan Morris. (At right)
We applaud the students who participated for their courage and willingness. It was unbelievable what they were able to achieve in 4 hours. We were totally impressed!
---
0
comments